Ralph P. LaTorraca
Broker/Owner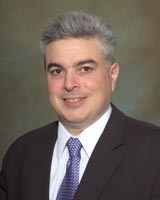 Ralph P. LaTorraca has achieved an exceptional record of success serving home sellers, buyers and investors in New Jersey.
Ralph LaTorraca has owned and operated LaTorraca Realtors since 1988. Enjoying a fine reputation of "local boy made good," Ralph has been a proud resident of Bloomfield, New Jersey since childhood. He has single handedly added to the growing price of residential real estate in this popular, scenic area with his dedication to the community and its members.
In fact, since beginning his personal career in real estate in 1984 and earning his appraiser's license in 1992, he has netted his clients some of the highest prices ever achieved in their communities. This sales record earned Ralph the prestigious Realtor of the Year Award for the United Association of Realtors.
Ralph is a graduate of Rutgers University with a BA in Political Science and has served as Past President as well as being a member of the Board of Directors of the United Association of Realtors. As a broker, Ralph has long been dedicated to strong, motivating training programs for his agents and he continues to champion the highest professional standards in the Real Estate Industry.
Above all, Ralph understands that the owners who choose him and his company to represent them in the sale and purchase of their homes expect more responsiveness and accountability than any other agent can offer. As a result, LaTorraca Realtors takes pride in earning most of its business through their reputation and referrals.
Notably, Ralph has also personally supported many community activities in Bloomfield William Foley Football Little League and senior league baseball and is a committed to fund raising and volunteering for the community.
When asked to describe Ralph, friends and colleagues say the same thing, "Working with Ralph gives you peace of mind. He gets the job done and we trust him!"
Contact Information:
Phone: 973-338-4300 ext.102 Cell: 973 902-2289